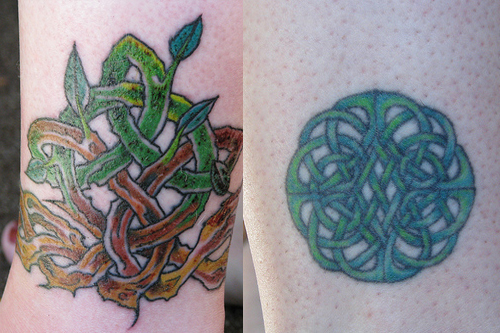 If you are looking for a detailed tattoo design full of meaning, then Celtic tattoos for women may be the right choice for you. Celtic tattoos for women are among the most intricate and detailed tattoos you will find. With their inter locking and inter weaved lines and spirals it's no wonder they're in high demand.
Types of Celtic Tattoos for Women
Some may choose Celtic tattoos for women that include a design as a memorial for a loved one or one with a symbolic meaning. Others may select a Celtic tattoo design to represent their heritage. No matter what the symbolic meaning, if you are looking for large size Celtic tattoos for women or something a little smaller, we have a few tattoo ideas for you to consider.
Zoomorphic Celtic tattoos for women include the image of a creature that holds special meaning for those of Celtic descent. Either the tat is created using the traditional knot patterns to shape the animal or an image of the animal itself is incorporated into the tattoo.  Here are some ideas for animals and their meanings: Heron – patience and truth, Swan – spirit, love and beauty, Cat – sensual and a guardian, Raven – healing, Horse– faithfulness and a goddess, and Lion – dignified. These animals can all be inked using color or in traditional black.  Don't be afraid of color.  More and more people are using color in tribal and Celtic style tattoos. Color in a Zoomorphic tattoo would really make the animal of your choice pop. Further ideas for using a Celtic animal symbol include surrounding the image with Celtic knot work, using the animal as a lone tat, using multiple animals to signify different parts of your personality held together in a traditional never ending Celtic circle, and using the Gaelic name of the chosen animal(s) in your tat.
More simplistic but no more less important are the basic building blocks of Celtic tattoos such as the triskele, single knot, twist knot, circle knot, lovers knot, eternity knot, and tri spiral are all seen worn by themselves.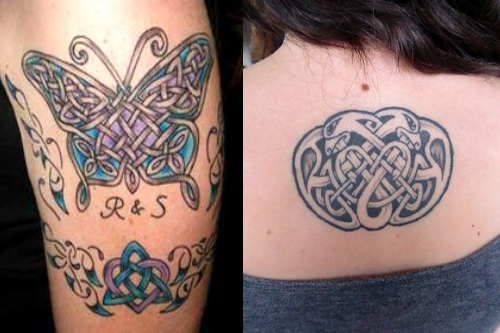 Triskeles are a good choice in Celtic tattoos for women for a couple of reasons.  It represents the three stages of life; child, maiden and old age.  It is also considered to be a symbol of motherhood by representing; mother, father and child.  The design possibilities for triskeles are endless. They are most commonly seen as spirals, although they are also inked in more geometric shapes.  You can also incorporate triskeles into your Celtic tattoo. Triskeles are very versatile because they can be inked in virtually any size and placed almost anywhere on your body.  They look especially nice on the lower back, back of the neck, shoulder, and foot.
Lover's knot provides almost the same opportunity as the triskele except that this is a personal tattoo between you and your love, and needs a little more room.  It is two eternity knots, or two never ending loops entwined together.
Don't hesitate to discuss your ideas about Celtic tattoos for women with your tattoo artist.  They will be able to help you with decisions on color and placement of the images you have chosen.
Related Articles
Images from: