Tree tattoos are very popular. They not only look amazing, but have very significant meanings behind them. Trees are bold, resilient and they provide life. Trees are strong and they can withstand the test of time and the roughness of the storms. Trees are everywhere and anyone can relate to the importance of trees.
When people get tree tattoos, they often get them on the back or side. Since trees are so large these places can be the perfect way to show off anyone's magnificent tree tattoos. A lot of tree tattoos are in grey scale for a more dramatic effect, while some add touches of color in the leaves or flowers adorned upon the tree. There are many different examples of tree tattoos listed below. Take a look and see if any appeal to your specific taste. These amazing tree tattoo designs not only have powerful meanings, but they look amazing as well.
 15 Stunning Tree Tattoo Examples
Tree on the Arm
A black bold tree on the arm with no leaves and birds flying from the tree up to the wrist.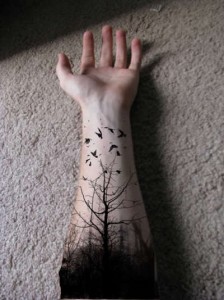 Trees in the Leaf
A maple leaf outline with trees inside it in black and gray ink.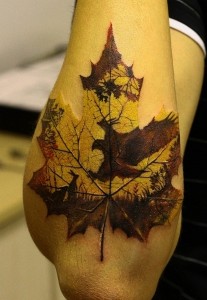 Dead Tree Tattoo
A dead tree on the left shoulder with birds flying up her neck.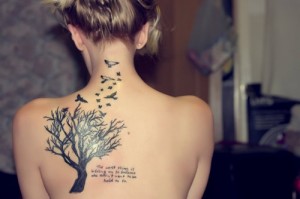 Small Tree on the Wrist
A small tree with some leaves and its roots exposed in black ink on the wrist.
Tree and Quote Tattoo
A black dead tree on the stomach with the quote "Always find a reason to be happy".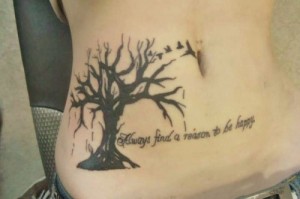 Black Tree Tattoo
A leafless tree on the rib cage in all black.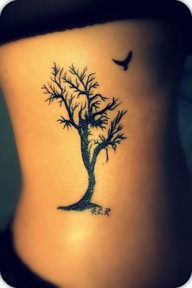 Tree Growing From the Heart
A tree with leaves in gray and black growing from a red heart where the roots are.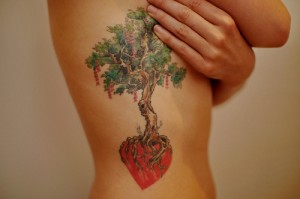 Intricate Tree Tattoo
A nice tree tattoo done very intricately with leaves and exposed roots.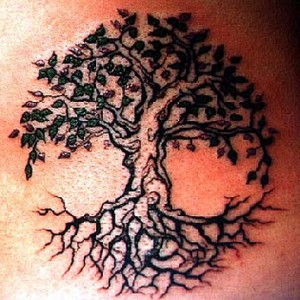 Dying Tree Tattoo
A rib cage tattoo of a tree that seems to be dying in black ink.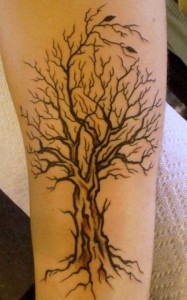 Tree Hand Tattoo
The base of a tree on the wearer's hand with a hollow part in the trunk.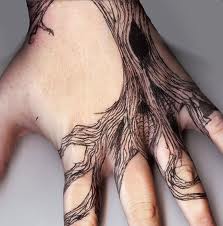 Full Art Back Tattoo
A tree that takes up the entire back with colorful falling leaves down to the exposed roots.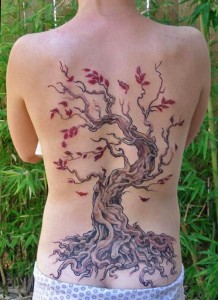 A Lively Tree Tattoo
A tree tattoo with a lot of leaves and a small trunk and branches.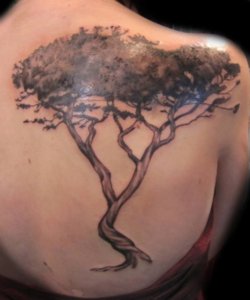 Tree in Autumn
A tree tattoo with red falling leaves upon the girl's back.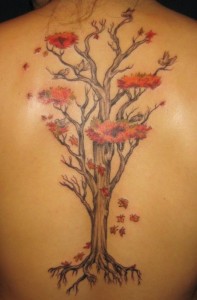 Large Tree Tattoo
A large black ink tattoo with birds flying away.
Colorful Tree Tattoo
A tree tattoo upon the leg in bold colors.
Photo by TattooArteBTU