15 Stunning Koi Fish Tattoos
Before we get to the images of some amazing Koi fish tattoos let's talk a bit about the history of the Koi fish itself. Throughout the centuries, koi fish have been thought to represent good luck and high aspirations. According to one Japanese legend, if a koi fish could successfully climb a waterfall, it would be transformed into a dragon. For this reason, koi have become associated with upward mobility and overcoming obstacles.
However, that is only one story behind the meaning of koi. In the Buddhist religion, koi fish represent courage and determination. In other traditions, they represent family and the essence of life.
No matter which interpretation you follow, it is clear that koi fish are very important to many cultures, and they are thought to encompass a variety of attributes that humans strive for. For this reason, koi fish tattoos are very popular with people who desire good fortune and the strength to overcome obstacles. A koi fish tattoo represents a resolve to lead a prosperous future.
Koi fish tattoos come in many shapes, sizes, and colors. Here are some beautiful examples of koi fish tattoos.
Koi Fish Arm Tattoo
This large koi fish is accented by colorful flowers to create a beautiful koi fish tattoo.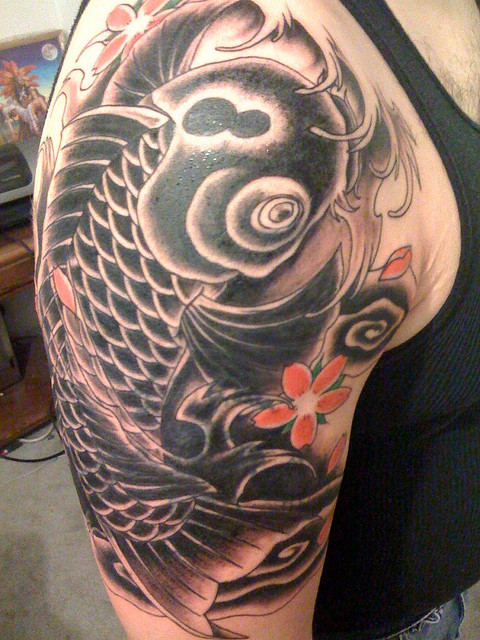 Colorful Koi Tattoo
This vibrant koi fish is a symbol of good luck.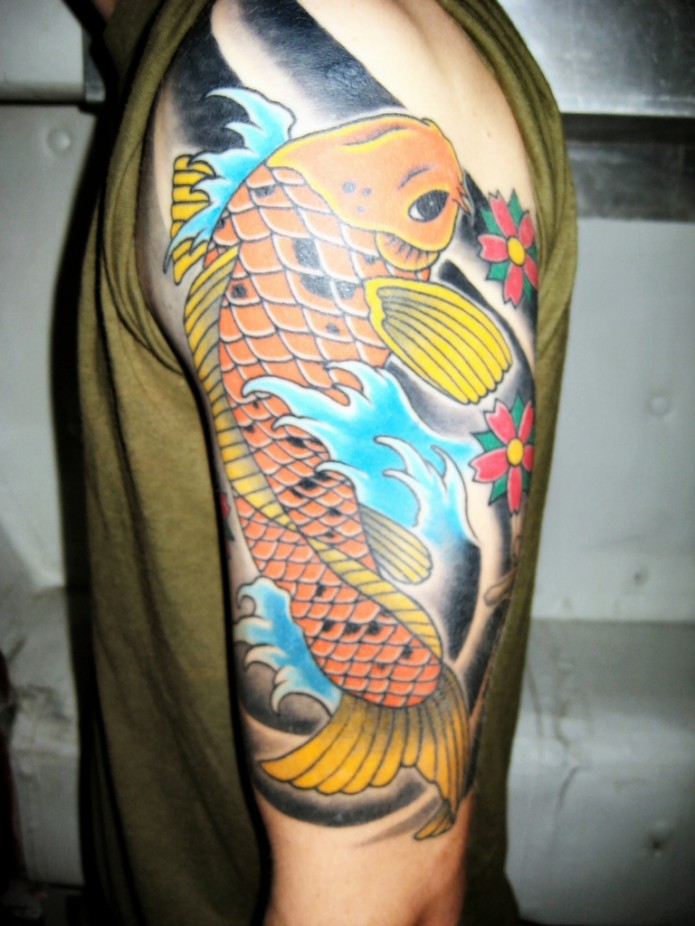 Koi Fish Hip Tattoo
This koi fish tattoo has a unique placement on the upper leg and hip.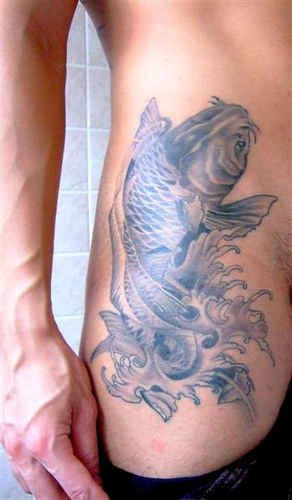 Koi Fish Outline
Unlike many koi fish tattoos, this one focuses on solid outlines rather than color and shading.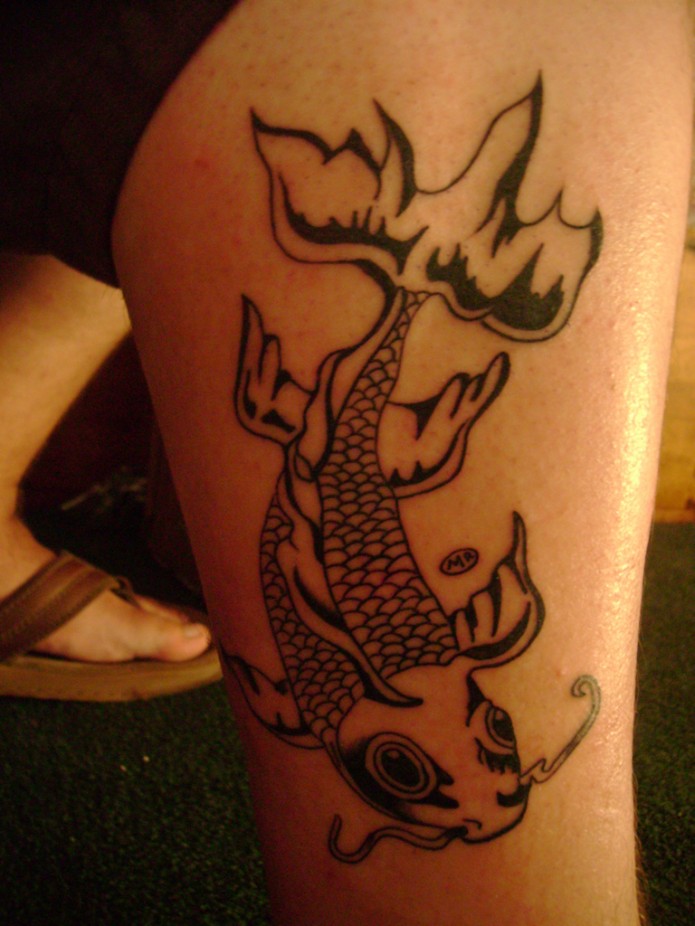 Symmetrical Koi Fish Tattoo
Two koi fish mirror one another's positions in this colorful tattoo.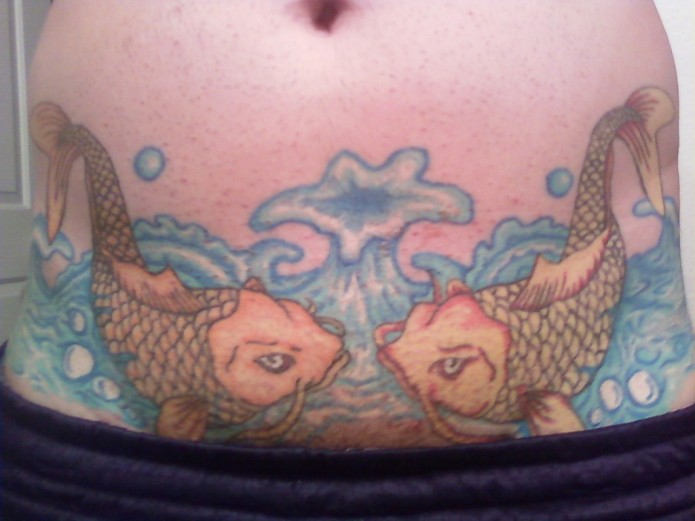 Colorful Koi Half-Sleeve
This colorful koi fish makes for a magnificent half-sleeve representing good fortune.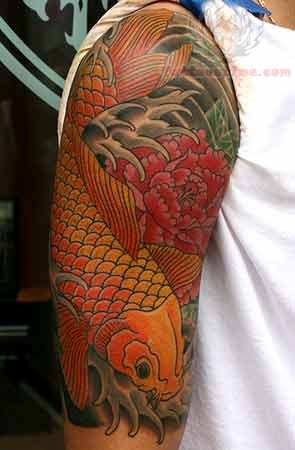 Swimming Koi Fish Tattoo
This back tattoo depicts a coorful, swimming koi fish surrounded by flowers and Japanese characters.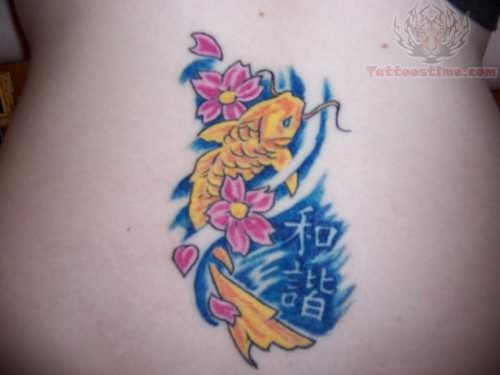 Masculine Koi Fish Tattoos
These two koi fish look very masculine in shades of grey, orange, and red.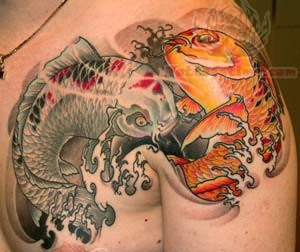 Shoulder Koi Fish
This colorful  koi fish stands out from the grey shading to make a statement of good fortune.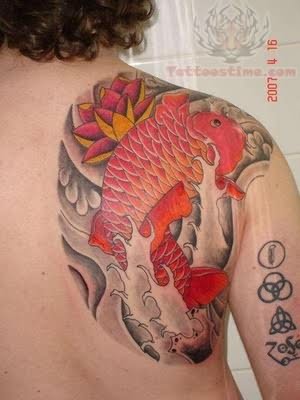 Large Koi Fish Back Piece
This large, colorful koi fish tattoo is accented by pink flowers to create a gorgeous back tattoo.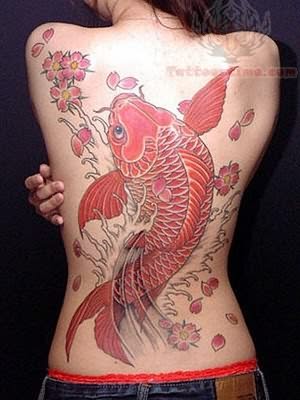 Intricate Back Tattoo
The use of black and red shading gives this koi fish a realistic look.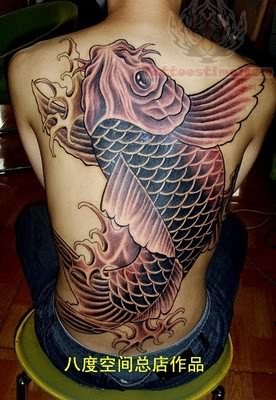 Blue Koi Fish Tattoo
The use of bright blue ink makes this koi fish tattoo stand out from the rest.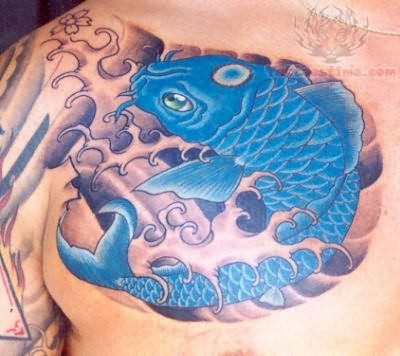 Black and White Koi Fish
In real life, koi fish are usually brightly colored, but this tattoo shows that they can be just as beautiful in black and white.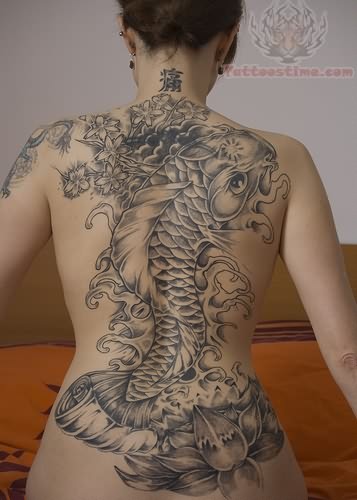 Flowers and Koi Fish Tattoo
This tattoo incorporates shades of pink in the fish and the flowers.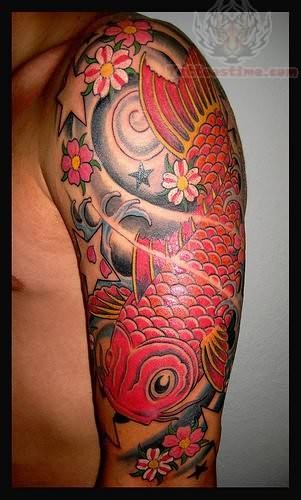 Giant Koi Tattoo
This koi fish tattoo is part of a huge back piece, and it stands out from the rest of the tattoo by using vibrant shades of red, yellow, and orange.